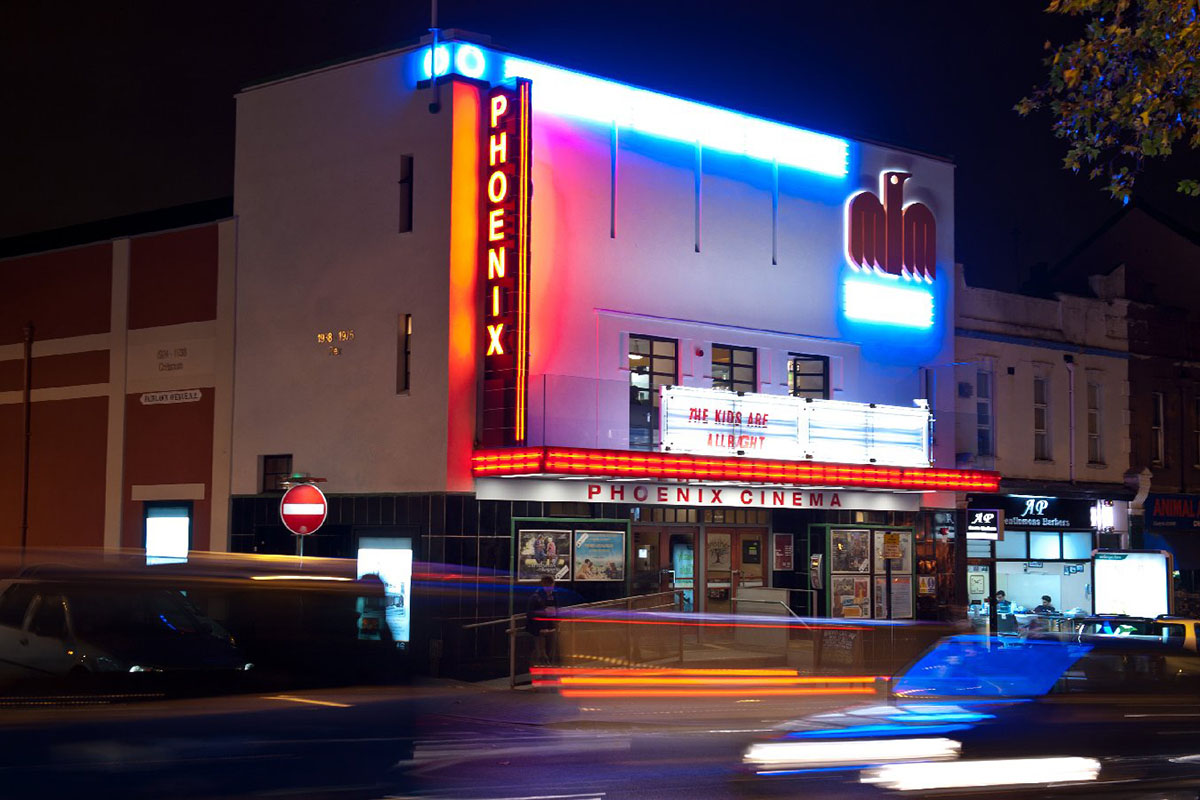 If you and your best night time chill prospect (your most favorite & fun person) are looking for a good night out it's likely you've realized how cool the atmosphere is at The Phoneix Theater. As one of the truly independent theaters, it's really an art deco living monument run by a good number of volunteers who are hip to its history. Expect foreign and artsy flicks along with some old school classics. Their website: phoenixcinema.co.uk here you can check out what is playing and grab directions on how to get there. It's on 52 High Road in East Finchley and it won't put you out of pocket but £11.  This place has the captured charm you would want from a historic edge and it actually can take you back, not to mention sip a cocktail with your popcorn.  The nightly neon lets you know that you're in for a good night. But just to be certain we are going to include the top 10 best places to hit the night you catch a flick at The Phoenix…
Head west and start with some tapas at The John Baird & Black Orchid they have no web page sadly, but you can give them a ring 020 8444 8830  They are serving Thai specialties that won't have you stuffed and it's a good warm up for before the show.  This is the place to go if there's a match on that you want to catch on the big screen.  Start with a pre-show cocktail and have a quick bite of something before you head due southwest to…
The Old White Lion is a great second stop, seen here at: https://www.theoldwhitelionfinchley.co.uk/  The Old White Lion is the sort of spot that can accommodate quite the crowd if you're in good company.  This spacious beer garden is a super place to pace yourself for that second lil nip before The Phoneix.  Depending on your show time you may even see a comic do a set, as they regularly host comedians.  Certainly worth the trip and just a block south down at 121 Great North Road in East Finchley, you could easily stroll to the theater.  Open every day Noon to 11:00 p.m.  Great Snap Chat opportunity when you leave; cozy up to the great stone Lions out front that anchor the entrance for your most imposing pose.
After the show head due south to the Finchley main pub crawl area and begin at The Victoria Highgate: http://www.thevictoriahighgate.com/ It lays claim to fame being "Your Neighborhood Pub. Yet if you catch it in the summer you'll see quite the garden friendly site all decked out in blooms on every possible space.  With weekend nightly shows you are sure to catch something great. Coming up in November, on the 4th they will host the truly talented crew of stompers for something different.
From there you might head a block east and pick a comfortable spot on a couch at The Woodman.  Unfortunately, there is no website but if you're in a group it's a nice place to lay claim to a set of couches facing one another and have another drink before eating.  Monday seems to be the best night for The Woodman, it also has some nice outdoor areas for the smokers satisfaction.
Head back south and slightly west off Archway Road to enjoy the best British fare with economical sharing boards to stave off the hunger when first arriving.  The meat board has a nice cross section of cured meats and is served with a sumptuous mustard based mayonnaise.    They have a consistently rated five star for their Sunday Brunches, but all days of the week you can get their sticky toffee pudding, so save some room after your meal.  It's also a good value for you get a lot of food with each dish. As a suggestion, it's a perfect spot to share something after your opener and save the calorie count for the pudding.  It's a converted restoration and the atmosphere nice and cozy so relaxing is easy to do.
For that after dinner spot head down to The Red Lion & Sun: theredlionandsun.com.  If you're not lucky enough to visit this spot during the day it's worth heading back one afternoon after the Heath.  It's an airy and elegant freehouse that has a truly enchanting garden.  The perfect place for a cordial or any choice from their extensive beer garden.
Staying on Highgate High Street another great place for a craft beer or a house-made gin martini is The Duke's Head: thedukesheadhighgate.co.uk.  They have long bars or booths to accommodate a number of people or just you and your favorite show go'er.  Truly for the connoisseur of beers, they have both a rotating keg across 10 cask lines.  Two of the ten that are dedicated to British cider that are both worth a sip.  Service is friendly, management present and you can see that it caters to its locals personally.  Even if you've already eaten, do treat yourselves to the "ridiculous fries" .  A center table sharing delight, sitting in gravy, cheese, sour cream and any other topping you can think of, a really delicious indulgence!
You can check out the industrial conversion pub next when you head over to The Angel Inn.See  Angelhighgate.co.uk   as you make your way back down Highgate High Street.  In staying with the cask ales selection they've five casks on site with two changing beers. It's said that the famed Monty Python used to write their material inside this famous old landmark.  Appreciate the historic significance as its land has stood in a pub's tradition since the seventeenth century dating back to 1610.  The current building is still standing since 1888, and it's transformations in 1930 and again in 1992 make it what it is today.The Angle Inn's located up on the hill so it's easy to find.  It's as easy as it is to find a spot at the long welcoming bar with its comfy stools. Tuesdays are Wine Club night for the wine enthusiast so a little of something for everybody. Check out the fish tank in the wall that's a real good backdrop for the wood paneling encased room.  They do trivia and offer board games if the night is still going strong.
Lastly, we think the next spot is the place to send you off to dreamland with a few second thoughts. As you're near the end of Highgate, The Flask: theflaskhighgate.com is the haunted stuff of legend.  The fireplaces inside make for a great late fall night. But if you did this crawl in reverse and hit The Flask in daylight than the patio's a must.  With the Victorian glass it's a great pub atmosphere and not just a kick butt restaurant for Sunday Brunch. Hint, if this isn't your stop after the Phoenix and you're hoping for brunch or that great crackling plentiful pig's knuckle, you'd best call for a reservation.  But late night the pub is a buzz with on the ball bartenders and a generous pour and pints for a £5-er to keep you going till the end. Be sure to ask about the ghost stories the locals tell, and by all means, the cashews are worth ordering.
Hope you enjoy Highgate and all these great pubs.  If you are looking to make one of these pubs your local be sure to contact your London Relocation agent.  Tell them to book you some showings in East Finchley. Check out our East Finchley Area Guide, you can check out what's available in Finchley apartment rentals here..