Welcome back to our Sunday British history lesson!  Last week, we saw how William the Conqueror came to be crowned King of England, ushering us into a new era of Norman rule.
To suppress rebellion among the native citizenry, the Normans construct new fortresses, the most famous of which is known to all of us who have ever lived or visited here as the Tower of London. (Many who visit the Tower today are usually surprised when they first see it—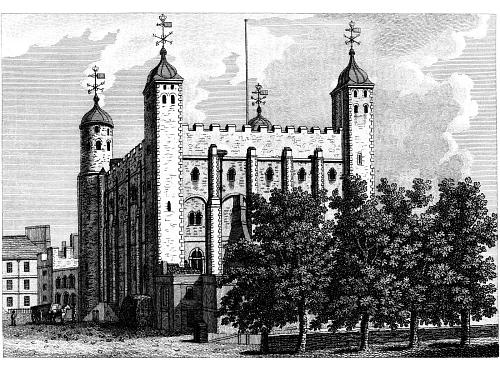 the name implies something literally towering overhead and not the low, sprawling fortress this site evolved into. The fact is, when the White Tower at the center of this complex was erected, it was the tallest building, its height accentuated by its location atop one of the city's hills, Tower Hill.)
Among William's squashing of rebels is an invasion of Scotland and subsequent truce with the Scottish king in 1072, overcoming the Revolt of the Earls in 1075 (he has royally ticked them off by limiting their power to one shire per earl, "shires" being centrally controlled yet autonomously governed counties within England), and establishing defenses along the borders of Wales in 1081.  In 1085, he commissions a survey of his entire kingdom, which is published the following year as the Domesday Book.  This continues to survive today as one of the nation's oldest legal documents and is kept in the National Archives located in Kew, London.