It's eerily quiet in London as the airspace over Europe is empty of anything but birds and clouds.  A bizarre turn of events yesterday with Iceland's volcano eruption, which has grounded the planes.  Makes for an interesting and surely frustrating predicament for travelers who are stuck where they're at.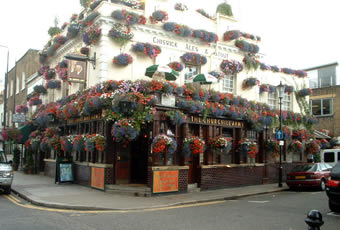 I'm benefitting, though, because it means I get to catch up with a couple former colleagues of mine who had expected to only zip in and out of London for a conference and are now stranded here until at least tomorrow.  We're heading over to the Churchill Arms tonight, which provides the best Springtime eye candy with its exterior pimped out with flower boxes all a-bloom.  As they seek to kill time with this unexpectedly lengthened London holiday, I also recommended to them a stroll through Hyde Park (near their hotel), perhaps visiting the Enchanted Palace exhibition at the opposite end in Kensington Gardens, and giving Portobello Road a wander.  But I'm biased, of course, in bringing them in this direction because my office is located in Notting Hill :).
Our fellow friend and former colleague who also lives here likewise offered up an easy London-in-a-day sampler that I think is great to share with you if you're relocating and want to familiarize yourself quickly with some its city center flavor or if you've already done the move and are prepping to entertain your visitors.  In addition to the usual touristed points-of-interest of Parliament, Westminster Abbey, Tower Bridge, and the Tower of London, she recommends Borough Market (near London Bridge) for lunch and then a stroll along the water, with the option of either crossing the river to St. Paul's Cathedral or delving into the arts on the Southbank at Tate Modern and/or the Globe Theatre.
And there you have it.  The mild air outside my window is beckoning me outside, so I'm off to meet a friend first at Kitchen & Pantry here in Notting Hill before it's pub time.  Hopefully you'll be able to spare plenty of time for exploring like this with all those days London Relocation Ltd. will save you in flat-searching.  Have a lovely weekend!