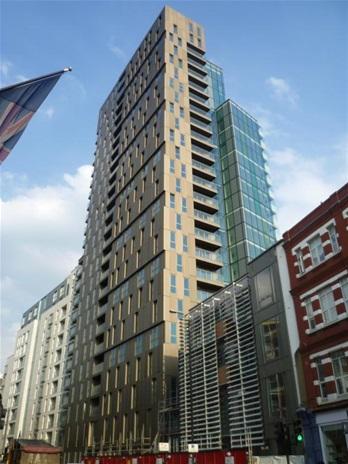 This stunning example of high-rise elegance offers its Shoreditch flats for well over £1 million BSP. Yet an affordable rental can be had even at the high end of this innovative and leading-edge of architectural wonder, for just £5,200 per month.   The building is located just off the Shoreditch High Street and offers its residents the ultimate in urban living.  With 24-hour concierge service, a stunning rooftop oasis for dining and entertaining, a state of the art workout facility and an Olympic regulation pool, there's no amenities forgotten in this gem of a building.
Shoreditch flats come in many forms, but this twenty-second-floor unit is a three bedroom, three baths delight.  The breathtaking windows that line the walls from floor to high ceiling are truly amazing.  The City is laid before you with an expansive view that stretches for miles. You enter the Shoreditch flats front door and you are taken amid the clouds.
The large reception room is dominated by the wall of glass that shows guests you have arrived at a different level of living.  The open plan will draw your eye around the sleek kitchen, including a large formal dining area to the right. The 180-degree view of the skyline, and at night the lights of London will lull you out onto your private balcony to take it all in.


This Shoreditch flats kitchen is ultra modern and tidy in function and design.  Its sleek cabinetry is plentiful with storage options. As well as, the floors which are the continued blond wood throughout the shared living spaces.  Each of the modern convenience appliances is seamlessly integrated with the long lines of the space.  It is a kitchen and bar area that begs to entertain.

The Shoreditch flats unit pictured has three baths, two full baths, and one shower capacity bath.  One of the full baths has a separate step down shower enclosure and one shower overhead the oversized tub in the other bath.  Each has a full capacity shower head with multiple settings on an extendable hand -unit.
Each of the bedrooms seems a master as they are lined with windows from floor to ceiling.  The master bedroom has two full walls of windows that surround you in views from the bed and the rooms entry.  With your private full bath, this ensuites appeal is complete.  It is all complemented by luxurious room darkening drapes that provide a black out effect whenever closed.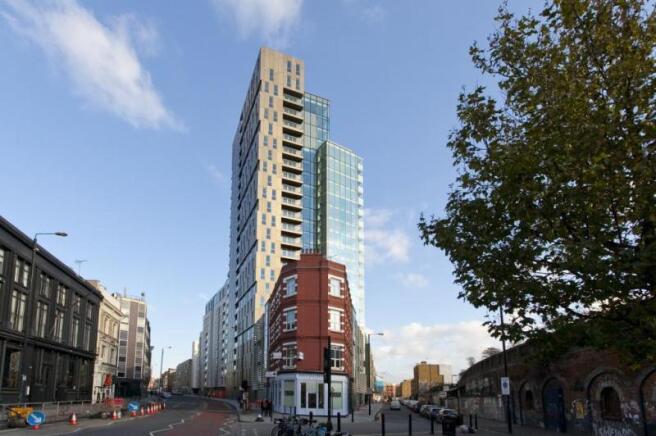 Shoreditch  Flats in Avangarde Place:
Residents enjoy equally the rooftop oasis that is provided at Shoreditch flats Avantgarde Place.  With trees and plant life alike incorporated in a modern and smartly designed outdoor living space.  Space where residents can gather and host parties and sit amid the London skyline. The ground level when guests or visitors enter they see a fashion forward and an expansive lobby with a staffed concierge to be at your service 24-hours a day.  There is also private parking available at additional cost per month.  Do not miss the Shoreditch flats fine features highlight this property for the ultimate in downtown, high-rise living.